If you are scrambling to put together a privacy policy because of the new General Data Protection Regulation (GDPR) policy that's going into effect as of May 25, 2018, then you'll be happy to know that WordPress has a new feature that can actually generate a privacy policy template for you.
Here's what you do…
Log in to your WordPress dashboard
Under the Settings tab, click Privacy…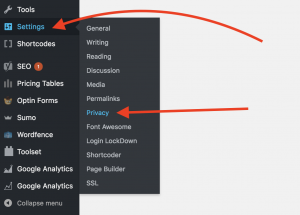 Create a new privacy page…

If you already have a privacy page, this feature won't help you. To generate a template you must click the 'Create New Page' button.
Customize your policy…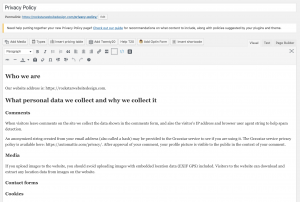 Much of the data will already be filled in for you based on your site and the plugins and features you use. However, you must go through it and make sure everything is up to spec.
IMPORTANT NOTE: I am not a lawyer, nor do I play one on TV. This article is not intended to be legal advice. If you have questions, please consult your attorney.
Lastly, if all of this is a bit too much, and you need a little comic relief, I've created a song called The GDPR Song for your enjoyment. Here ya go…